245602779_4552246644813882_3160302817505412733_n
246115695_4563497907022089_1575036107326559192_n
337691_501436339900045_1228160372_o
We are pleased that you are interested in helping us to support parent carers and seldom heard communities by working with us on fundraising. Your generosity will keep our work going. Helping us means we can continue to provide much needed support to parent carers and members of the local community. Did you know that by raising just £225 we can enable 125 people, parents and disabled children together, to have much needed family quality time together in a supportive, safe environment.
Since 2012 we have been able to help 1284 people have a short break. We couldn't do this without public support. It can be challenging to run expenses for a caravan such as utility bills, insurance, cleaning & many more. However with your help & donations we can keep both caravans running for as long as possible.
Through tickets & passes to local family based activities; delivery of activity packs or wellbeing packs; signposting & support; food support provision; training and much more, we have over the past 2 years alone helped over 1000 people in times of need. This takes time, money and resources which we couldn't do without volunteers, corporate partners, donors and very generous members of the public.
If you would like to organise your own fundraising event or get involved in other fundraising activities with us, please get in touch by emailing office@familyvoice.org
Top Tips and Ways to Fundraise
Read everything in our new fundraising guide here
Just Giving
Using sites like Just Giving makes it easy for friends and family to sponsor you. Just send them a link to your page, and all the money they pledge goes straight to Family Voice.
Tell people what you're doing on social media, and each share could raise more money. Post on Facebook, Twitter and Instagram, or even just put your Just Giving link in your page's profile, bio or status. Write a blog to update your family and friends. Send your link to your contacts via WhatsApp. Our just giving page

Facebook
Did you know you can now also use Facebook Fundraising to make a donation to Family Voice or set up and receive donations for a fundraising event. Simply log in to your Facebook account and click on the Fundraisers Button. Full instructions are provided by Facebook to get you started.
"Thank you all so much for food parcel yesterday both my babies ended up in hospital for the same thing respiratory problems I am most grateful for your support we are home now with steroids and antibiotics"

"Family Voice are so unbelievably supportive. We have gained so much insight, ideas and funding from them and they helped us to grow as a charity. Always on the end of the phone if we need guidance and excellent premises to hold exciting events"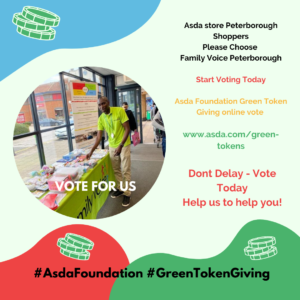 Asda Foundation Green Token Giving online
Charities and community groups can be nominated to entre a public vote to win one of three cash prizes for local community initiatives and projects. We have been lucky to have been nominated and selected as one of the groups locally to be in with a chance. We need your help to help us get to the £500 top donation. This will make such a difference to us, and means we will be able to help 50 people (Parent Carers and their Children) to be able go to a local fun activity and what's more even have a bite to eat while they are there.
You can vote for us by visiting www. www.asda.com/green-tokens and selecting Peterborough from the drop-down box, clicking on our name and then vote for us. You will be able to vote once every seven days, so please make sure you return and revote in the following weeks. #AsdaFoundation #GreenTokenGiving
Tesco Community Grant
We're in the customer vote for a Tesco Community Grant. It's a scheme which gives community projects like us grants of up to £1,500. Tesco customers will now vote in one of a number Peterborough stores to decide how much funding we get, so please support us next time you shop at Tesco.
The project with the highest number of votes across our region will receive £1,500, the second placed project £1,000, and the third placed project £500.
What happens next?
Stores which will vote on our project
3009 Peterborough Extra PE7 8BD Extra
3023 Peterborough Hereward Cross PE1 1TA Express
4472 Peterborough Oundle Rd PE2 9PJ Express
4812 Hampton Vale Exp PE7 8NJ Express
6111 Stanground Exp PE28 RJ Express
6794 Wistow Way Orton Exp PE2 6XN Express
To check the location of any of the above stores, please go to the Tesco website here: http://www.tesco.com/store-locator/uk
To vote, you will need to make a purchase within store of any value. You will receive one token per transaction and it's not necessary to purchase a carrier bag in order to receive a token.
For further information http://www.tesco.com/communitygrants